• Event:  eNASCAR Coca-Cola iRacing Series (Round 4 of 20)
• Time/Date:  9 p.m. EDT on Tuesday, March 31 (TONIGHT)
• Location:  Virtual Bristol Motor Speedway (.533-mile oval)
• Distance:  250 laps (133.25 miles)
• This is the first time in 2020 that the eNASCAR Coca-Cola iRacing Series will compete on a short track. All of the series' previous races have come at tracks 1.5 miles in length or longer.
• This is the eNASCAR Coca-Cola iRacing Series' fourth visit to the virtual Bristol Motor Speedway, but only its second since 2011.
• Last year's eNASCAR Coca-Cola iRacing Series race at Bristol was run under the lights. This year's edition is a daytime affair.
• Stewart-Haas eSports drivers Justin Bolton and Dylan Duval come into Bristol after each earned their season-best result in the series' last race at the virtual Homestead-Miami Speedway. Duval finished 15th and Bolton was 17th.
• Duval finished 25th in last year's race at Bristol, while Bolton makes his Bristol debut tonight.
Justin Bolton, driver of the No. 10 Get Busch Delivered! Ford Mustang:          
"We've run well, but we don't have the finishes to show for it. We were up toward the top-five at the end of the first run in our last two speedway races, but haven't been able to get it done when it mattered. We're going into Bristol optimistic that we can turn our season around. I'll be driving the No. 10 Get Busch Delivered! Ford Mustang, and we've been spending a lot of time working on this setup. We feel confident that we'll have something to compete with. And for those of you who are 21 or older, go to Busch.com/delivery and then enter your zip code to see what options are available in your area. From there, you can get Busch delivered right to your doorstep. While we're racing, you can relax and unwind with an ice-cold Busch."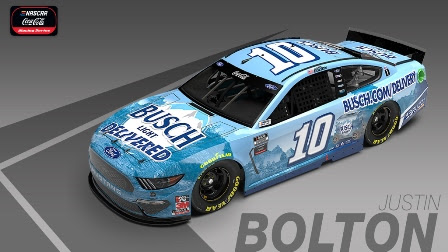 Bolton is a 25-year-old engineer on Stewart-Haas Racing's NASCAR Xfinity Series team who helped Cole Custer to a career-high seven victories in 2019. Bolton has raced in the eNASCAR Coca-Cola iRacing Series off and on since 2014, accumulating 49 starts with nine top-five finishes and a career-best points result of ninth in 2015. The Latrobe, Pennsylvania, native also has real-world racing experience, as Bolton has raced Legends cars and Late Model stock cars, winning the 2013 Fall Classic at Hickory (N.C.) Motor Speedway in the Limited Late Model division.
Dylan Duval, driver of the No. 41 PEAK Coolant & Antifreeze Ford Mustang:
"Coming into the season, Bristol is the track I had circled as being the one I was most concerned about. Last season at Bristol, I really struggled and wasn't happy with how we performed. The racing at Bristol is so close quarters – having an ill-handling car can lead to a very long night of racing. We've turned a lot of laps and have explored many setup options to get our PEAK Coolant & Antifreeze Ford Mustang dialed in for tonight's race. There are a lot of unknowns going into it. It's our first race on the low-downforce package, and this race will be in the daytime as opposed to last year's race, which was at night. We've done our homework, though, and I think we're prepared. This season has started off pretty rough for us – having an issue on pit road at Daytona and struggling with dirty air and passing at California. Going into Homestead last week, we needed to start turning our season around and we did exactly that with running inside of the top-10 and, ultimately, finishing 15th. Coming into Bristol, I'm hoping to build off of what we did at Homestead and continue to make up some points."
Duval is a 24-year-old from Halifax, Nova Scotia. The graphic designer debuted in the eNASCAR Coca-Cola iRacing Series in 2012 and is the first Canadian iRacing winner in series history, taking the checkered flag at the virtual Indianapolis Motor Speedway in 2016. Duval has made 76 starts in his seven-year career, scoring eight top-fives and earning a best points finish of fifth in 2016.
About Stewart-Haas eSports:
NASCAR is the ultimate test of driver acumen and mechanical know-how, where teams scrutinize every detail in a never-ending quest for speed. Stewart-Haas Racing has thrived in this environment, winning races and championships to firmly establish its presence in NASCAR. Stewart-Haas eSports emulates these efforts in the virtual world, where sim technology provides a visceral experience that amplifies the grit and determination of NASCAR drivers in the real world. Stewart-Haas eSports is a natural extension of Stewart-Haas Racing, where competition and simulation are one. For more information, please visit us online at http://www.StewartHaasRacing.com and follow on Twitter @SHR_eSports.
About 
Stewart-Haas Racing:
Stewart-Haas Racing is the title-winning NASCAR team co-owned by three-time NASCAR Cup Series champion Tony Stewart and Gene Haas, founder of Haas Automation – the largest CNC machine tool builder in North America. The Kannapolis, North Carolina-based organization has won two NASCAR Cup Series titles, one NASCAR Xfinity Series championship and more than 70 NASCAR races, including such crown-jewel events as the Daytona 500, Brickyard 400 and Southern 500. For more information, please visit us online at http://www.StewartHaasRacing.com, on Facebook at http://www.Facebook.com/StewartHaasRacing, on Twitter @StewartHaasRcng and on Instagram @StewartHaasRacing.
Total Page Visits: 264 - Today Page Visits: 1